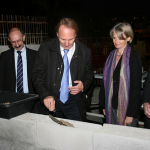 November 17th 2011 : laying the first stone of CERIMED in Marseille
The CERIMED project (European Center for Research in Medical Imaging) is now well advanced. Work has started and the first stone has been officially laid.
CERIMED will allow a multidisciplinary team (physicists, physicians, radiologists, technicians, researchers …) to work in synergy around medical imaging. It aims to develop innovative tools to better diagnose and treat patients. Building delivery expected for late 2012.
The center is located between La Timone Hospital (Assistance Publique-Hôpitaux de Marseille, AP-HM) and research labs on the Health Campus of Aix-Marseille University (including Neurosciences, Oncology, Cardiovascular Pathophysiology). The building of 3648 sqm will have direct access to the clinical departments and the imaging center of the AP-HM. Didier Rogeon's architectural project has previously been selected (Marseille Aménagement).
The creation of CERIMED is funded by the State/Region Project Contract (CPER) 2007-2013.
The project is part of the cluster "OPTITEC: complex optical and imaging systems", and is integrated with the "Canceropole PACA Axis VI : Technology Research" .
CERIMED building is sponsored by :
City council of Marseilles: 4 million euros
Conseil Régional PACA: 3 million euros
General Council: 2.5 million euros
FEDER (Europe): 1.6 million euros
State: 500 000 euros
Resources :
Press release by Aix-Marseille University (17/11/2011) and newspaper "La Marseillaise" post (24/11/2011) :
[issuu width=300 height=194 embedBackground=%234393cd backgroundColor=%23222222 documentId=120822150852-e306e45d579f4061a1173d50b772b77a name=cerimedinfopresse1 username=cerimed tag=amu unit=px v=2] [issuu viewMode=singlePage width=300 height=194 embedBackground=%234393cd backgroundColor=%23222222 documentId=120822151355-7189937bf2504fcfa816bae1c1b1591b name=article_la_marseillaise username=cerimed tag=amu unit=px v=2]
Video on AMU-TV :

Cerimed building's Flickr photostream : [AFG_gallery id='2′]