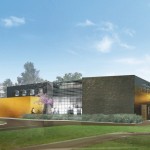 Implantation
CERIMED had to integrate all the infrastructures enabling it to reach its objectives on the same site. To respond besides to its mission of education and training, and to have closely linked relations with industry with the permanent concern of valuation and technological updating, CERIMED is implanted in immediate proximity to the University hospitals, the main teaching structures (Univerities and Engineering chools) and a scientific industrial park.
The implantation on the site of the University hospital of La Timone,in close relation with the Château-Gombert Technopole, is justified by the attractivity that Marseilles represents on the European level, as well as by the excellence of its numerous medical infrastructures, research institutions, large teaching and industrial centres, of the Provence-Alpes-Côte-d'Azur region and the nearby Rhône-Alpes region.
From simple projections…

The CERIMED operation benefits from financial resources of the Contrat de Projet Etat/Région (C.P.E.R.) 2007-2013 (Contract of State/Region Project).
Implanted on the Health Campus Timone in Marseilles, the building with a 2600 sqm surface on 3 floors, will have direct access to the imaging pole and clinical services of the University hospitals of AP-HM.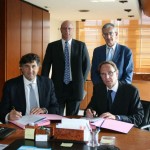 On June 25th 2009, the company Advanced Accelerator Applications (AAA), represented by its CEO Mr Stefano Buono, signed a convention with the former Université de la Méditerranée (now known as Aix-Marseille University) represented by its president Pr Yvon Berland, for the installation, use and maintenance of 2 cyclotrons (one dedicated to production, the other for R&D) as well as 3 radiopharmaceutical laboratories in CERIMED.
AAA, which will develop a new commercial production site of radiotracers destined for France and neighbor countries, has thus become one of the priviledged partners of CERIMED as regards its implication in R&D.
Sources of funding for the building
Sources of funding for furnitures and equipment
---
…towards reality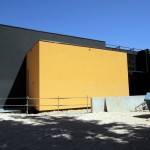 Having started in May 2011, the building work of CERIMED have lasted for one year and is expected to be delivered in November 2012.(See articles and media coverga below).
In order to realize its ambitious program with maximum efficiency, CERIMED is organized in 5 departments, well-articulated between them as regards the management of the centre, enabling it to federate all the actors concerned and to harmonize their action despite different cultural backgrounds.
These departments cover the following activities :

---
See also…
Vidéo de présentation du projet CERIMED (TéléAMU, 2009) – Voir sur le site d'origine + informations et crédits

Press release by Aix-Marseille University (17/11/2011) and newspaper "La Marseillaise" post (24/11/2011) :
[issuu width=300 height=194 embedBackground=%234393cd backgroundColor=%23222222 documentId=120822150852-e306e45d579f4061a1173d50b772b77a name=cerimedinfopresse1 username=cerimed tag=amu unit=px v=2] [issuu viewMode=singlePage width=300 height=194 embedBackground=%234393cd backgroundColor=%23222222 documentId=120822151355-7189937bf2504fcfa816bae1c1b1591b name=article_la_marseillaise username=cerimed tag=amu unit=px v=2]
Building site unveiled – video on AMU-TV :

---
Latest related posts
We are proud to anounce that Pr Vincent Vidal (Marseille, France), Head of the Experimental Interventional Radiology Laboratory hosted at CERIMED,…